I was a big fan of this week's readings, especially of Sommers' Revision Strategies… article which I chose to focus on most heavily. But first, of remixing, I was much intrigued. When I attended Rutgers for my undergrad I spent a lot of time thinking about the language of cinema (as Film Studies was my major focus in Comparative Literature), and specifically the genre of adaptation. Adaptation is more interesting or nuanced than it sometimes appears to be, as one thinks largely of the worst examples rather than the best, or spends time nitpicking differences between the film version and source material. But I have long believed these to be more or less unfair critiques and learned through a review of the art of adaptation that it can indeed be both revision and remix of the source material.
There are plenty of bad examples of adaptations of otherwise stellar works, but there are far more than a like number of bad singular works as well for which adaptation was not desired. This is not to create scapegoats or make excuses for poorly done renditions of preexisting things, but if we could approach the field of adaptation in cinema with a more neutral glance, it has been my experience that there is an enormously interesting comparative identity that exists there. And that is, in essence, something of a remix culture in film.
But I digress. Specifically on the topic of the Garcia article, I must admit that I have not been well versed in much of the remixing that he mentions. It became apparent to me here that the use of remixing to reevaluate norms and identities vis-à-vis preexisting material can be a powerful thing. Certainly, as art in its various forms is a making-real of the self, it is reasonable to utilize this movement to overlay different identities and even renew certain ways of thinking. My only real personal example of remixing, not quite remix culture, is that a good number of Progressive Rock artists remixed classical pieces into prog.
Thus far in the course, it happens to be that this Sommers article is my favorite reading. It offers both an interesting theoretical discussion, as well as a practical call-to-attention of my own feelings on and doings of, revision – not unlike a point made within the article. There is a mention made several times throughout of the mind; its structures, its space, and it led me to think largely of Bachelard's The Poetics of Space.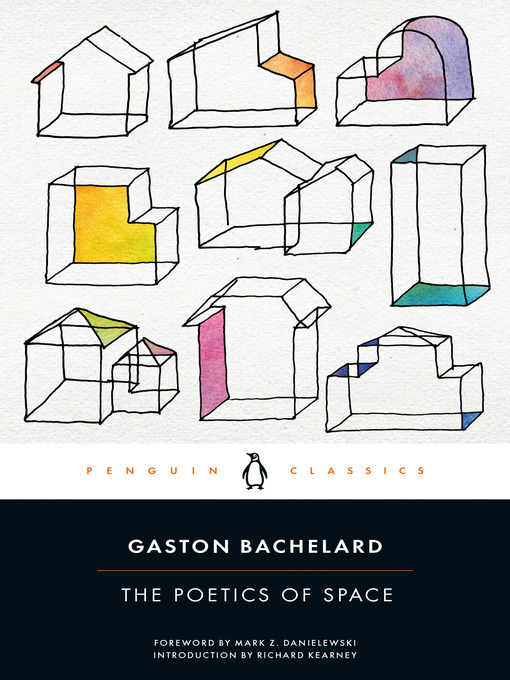 Bachelard argues here in terms of some nonliterary modes, architecture etc., but his point was brought (by himself and others) to the concept that spaces in one's mind are as real and tangible as spaces in one's physical world, and that they are emotionally linked. In this, to paraphrase the quote from Sommers, the writer as someone who puts their experience into words in their own mind, carried some additional weight for me. Words which cannot be interacted with the same way as writing, as they are structured in your mind and then laid out physically before you, is your space from within turned without. Very interesting stuff.
But to turn more towards the practical application of Sommers, I had to evaluate myself as a writer based on the strategies of the students and experienced writers. Admittedly I found myself in line with some of what the students did and the approaches they took, namely the business of "marking out". I find myself not necessarily looking at revision to an essay as being more than just fixing grammar or changing words. But as Sommers points out, the idea then that my work is structurally and argumentatively done, and that all there is left to do is whip out the old thesaurus.com is a bit arrogant. But simultaneously I did also find myself in the experienced writers' camp of revising and rewriting in some ways. That any particular go at a draft encompasses only that specific draft's worth of concepts on a topic is very true. I do have a bit of the "I write most conclusively when I'm inspired" thing going on, but I do recognize also that that inspiration is a conceptual flash, and that it does not always hit on everything I have to say. Beyond that one draft, who is to say that the conceptualizing left over would not almost entirely rework an argument or the structure of my essay.
But most of all I found myself in agreement with the concept that I exist within my own space as its being constructed, and I do ask questions of myself and respond to them. When we reread something we write, and it doesn't have to be analytical for which a general question or idea is being answered or argued, questions like "does this make sense outside of my mind?" or "is there not a better way of saying this?" happen; and when those things happen a revision cannot be as simple as changing a boring word for one of its more interesting counterparts.
Further in the article I found a bittersweet note, so to speak. Sommers included a linguistical perspective on revision by adding a discussion of the concordant or dissonant usage of language relative to itself and how that impacts literariness. I say it's bittersweet because at Rutgers I had majored briefly in Linguistics, and found that although it was theoretically and practically interesting, it itself proved far too intense for me and I had to drop it. I say it's a "note" because musical harmony and disharmony as being an avenue to a forest-through-the-trees approach to meaning as opposed to meaning derived from individual notes in a piece was discussed, and I was making a funny joke. But it is true I believe, that words in the context of each other and not in and of themselves give meaning, which is why structure is so important.
As one experienced writer points out, true revision is not determined by time. You could revise ceaselessly because you yourself are different every time you sit down to re-envision your work. To quickly tie this back to the Garcia article, this timelessness is seen in the re-envisioning of something like Birth of a nation to be a bit less debatable in its tone, or in the re-envisioning of Pride and Prejudice to speak to a more contemporary, younger audience. The essence exists but the "language" and not just the "words" are changed.