Revising
This week we looked more closely at the concept of revision in writing by visiting with two writing theorists – Nancy Sommers and Jeanne Nelson.  Thanks to Medea for her very thorough presentations (one on Sommers, the other on Nelson) which offered many insights about writing-as-process. The articles prompted us all to think more about the key role that revisionary thinking plays in the act of writing.  Sommers shed light on the problem of linear thinking that is attached to writing.  Born of a problematic conflation between speech and writing, this linear mode of thinking reduces revision to an afterthought in the writing process.   But as Sommers has suggested, perhaps writing begins at the point where speech is impossible.  Writing is a recursive shaping of thought through/by language. Said another way, writing is always, also, re-visioning.
As Medea aptly pointed out, Nelson's piece dovetails well with that of Sommers. There is no doubt that students are highly adaptable observers of the classroom as text.  In one sense, it is essential for students to learn the "proverbial" rules of the classroom enterprise (they learn quickly how to "game" the classroom rules and figure out teacher expectations). However, getting stuck in the pursuit of a good grade can be harmful, as shown in the Nelson case studies.  After a smart overview of that material, Medea made it clear that she thinks that teachers should be direct in setting expectations for assignments, yet allow their students to explore learning and drafting in creative ways.  And I think we can agree with her that this balance is an important (yet tricky) business.
Remixing
This was a perfect segue to Kevin's presentation of Antero Garcia's article on the power of remix in learning.   As Kevin made clear, remix means making something new from preexisting materials; it involves the crossing genres to create a unique and perspective; and traditional messages and stereotypes can (and should) be questioned/inverted in the process.  He also emphasized that through remix our students can come to understand production, ownership, and sharing practices of intellectual/creative work.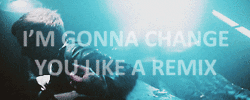 How can remix lead to a kind of liberatory experience?  What kinds of power implications tie into remixing?  In what ways does the engagement of remix in writing facilitate a dialogue with other cultural producers?  How is this (in itself) a productive interplay?  We thought about the way that remix can be harnassed as a teaching pathway or tool for a more profound consideration of culture and perhaps, a more inspired writing assignment
Equity Unbound
Sobh bekheir! ☀️
Good morning! ☀️
To all my comrades who believe
"The only way to make borders meaningless is to keep insisting on crossing them" ✊🏼✊🏾✊🏿✊🏻✊🏽
You inspire me ✨
You fan my flames 🔥
&
You know who you are ♥️@UnboundEq #unboundeq pic.twitter.com/9RkrN34JNB

— Parisa Mehran, PhD (@ParisaMehran) October 8, 2019
This week we will engage our international network through a shared annotation of Lina Mounzer's profound article entitled "War in Translation: Giving Voice to the Women of Syria".  We talked a little about the analog (non-digital or old school) practice of annotation – leaving notes and thoughts in the margins of your books when reading them.  It is like "writing back" to the author in the margin.  We talked about the ways annotation practice is like being in dialogue with a specific reading, and how powerful that marginalia can become in layering insight over an active reading.  (It can also be a kind of snapshot in time of your ideas and way of thinking).  With the digital tool hypothes.is, you can annotate any page on the open web.  Just like the analog context originally, here you will also be able to leave notes-in-dialogue – digitally attached to your reading in a much more social context.  We will engage in reading together in a public kind of way, learning from our own thoughts and other readers reactions.  The nice thing about hypothes.is is that it is a multi-modal tool, so you can add commentary through text, image, video, etc- multiple forms of "marginalia" that are meaningful to you.  You can also reply to other annotations, opening up important forms of interactivity about a text.
We r xcited 2 see what the #unboundeq community has 2 say re: @warghetti's War in Translation!

Join us 2 read/socially annotate this beautiful piece -We r in conversation w/so many thoughtful people from all over the 🌍: https://t.co/zo1Crl2Psa… #digciz #wolo #connectedlearning

— Equity Unbound (@UnboundEq) October 7, 2019
Please take this week to read Mounzer's article and annotate it.  Next week we will also spend some extra time paying attention to the annotation of other students who are also leaving their annotation there.  I would like to devote some extra time to dialoguing with them and increasing the possibility of interactivity and learning-in-collaboration with your peers from Egypt, Japan and Italy.
This is so in-sync w/our @UnboundEq vision

YES 4 moving beyond market driven mobility experience, 4 civic commitment, global consciousness & acceptance of r obligations 2 all of humanity #unboundeq #connectedlearning #cls2019 #digiz #interculturallearning #equity #networksofcare https://t.co/rfHZfPF173

— Mia Zamora (@MiaZamoraPhD) October 5, 2019
What is next?
Our next theme is Writing Process & Bad Ideas about Writing and our two presenters will be Teethee and Meagan.
Teethee has asked us to read two short pieces:
Meagan has asked us to read two short pieces that are both found in "Bad Ideas About Writing":
 

Failure is Not an Option

,  Allison D. Carr  (pg.76-81)

 

Writer's Block Just Happens to Peopl

e,  Geoffrey V. Carter, (pg.99-103)
Your "to-do" list:
Please finish War in Translation (Lina Mounzer) @hypothes_is annotation; Also, please tweet (using #unboundeq hashtag) one of your annotations from the article.  (You can tweet from hypothesis is you click on the little bird icon within your own annotation.)
Read the above four articles.
Post your Blog #5 which should be a thoughtful and synthetic reflection on Writing Process & Bad Ideas about Writing from this week's four short readings.  **Please remember to tweet your blog post after publishing it!
Next week in class, after Meagan and Teethee's presentations on Writing Process & Bad Ideas about Writing, the second part of the class will include a return to our online network and the Equity Unbound social annotation of "War in Translation".
Have a great remainder of the week!
Dr. Zamora
Ps.  If your wondering what sharing research at a conference is like…
@TheCLSummit was truly @ connecting. Caught up w/so many old friends, and met some new ones too! Thx @TheCLAlliance 4 the infusion of ideas, hope, & inspiration. Until next time, there is so much urgent meaningful work to be done! #connectedlearning #beinggoofyatconferences pic.twitter.com/1goMqoOUEF

— Mia Zamora (@MiaZamoraPhD) October 6, 2019