CEWAC also known as Civically Engaged Writing Analysis Continuum, is an opportunity for the youths to participate in arguments about issues that matter to them and their communities through public debates and dialogue through writing. The writing may include various forms of text, memes, infographics, video, and in any other digital access.
The youth have the opportunity to expand their knowledge ,research and question current events. Learning about civic writing ables the youth to reach various audiences through the academic objectives , such as language, evidence and reasoning; therefore furthering their development of civic skills in differences, perspectives and public voice.
CEWAC through The National Writing Projects and other benefactors were able to create  rubrics and assessments which presented goals for the youths/students, also leading to four attributes:
Employs a public voice
Advocates civic engagement or action
Argues a position based on reasoning and evidence
Employs a structure to support a position
The purpose is to engage its intended audience through reflections of tone, style, and rhetoric designed to engage, establish the author's credibility and raise awareness.
In the article, On Students Rights To their own Texts: A model of Teacher Response,  A. Richard was hit the nail on the head with this, "When reading a textbook, for instance, we assume that its writer knows at least as much about the book's subject as we do, and ideally even more. When we read a newspaper article, we take for granted that the writer has collected all the relevant facts and presented them honestly."  Amazingly the idea of politics through social and printed media popped into my head. Though this topic has no relation to politics, the concept of people in power and how they choose to execute an agenda. Our President, is a great example. Trump thinks he is helping matters but his intrusional personality disconnects the main goal of the political representer. The speech becomes all about Trump and his foolishness.
Are the themes or feelings relevant to the objective? Where are there facts? How can the audience/reader understand the person in power's perspective without clarification?
Allow me to simplify my thought. A student is given an assignment. He/she writes but lacks the connection needed to fulfill a dynamic expectation. Rather than help the student think and question what is missing, the teacher makes elaborate corrections. Does the writing still belong to the student? No, it doesn't. In a nutshell, the writing carries a different message. The teacher is more focused on the way the writing should look or be perceived rather than what the student was trying to convey. This action shows the student that the teacher's agenda is more important than their own, which leads to their wanting less relevant than the teacher's impression of whay should have been said (158). This is an example of a teacher who corrected a students love letter he/she found. Not only is this invasion of privacy (pretend you never found it), it is embarrassing and it kills the students confidence. That letter with its multiple grammatical errors is no longer the students. Whomever loved this person did not love him/her for their use of the english language.
Brannon further explains exactly my point, denying students control of what they want to say reduces the incentive for improvement. In the 1950's there was a television show called Father Knows Best and it was about the father trying to cope with his family's everyday problems.
Well now the Teacher Knows Best, is taking over. As teachers we cannot only rely on the Ideal Text and compromise the students ability to effectively pursue to point they want to make.
I remember having teachers write their thoughts on my paper and that's exactly what is was, their thoughts became my paper. Not to say, I didn't want help but the teacher should not have imposed his/her thoughts as if it was the best ideas known to man. Here's a possible solution to what can be used as a method of thinking.
I like the method of questions to initiate a process of negotiation, where
writer and peers or writer and teacher (or tutor) work together to consider,
and if possible to enhance, the relationship between intention and effect.
Do the writer's and the teacher's responses agree or differ?

If they differ, what evidence does each reader have to support the reading?
These questions will lead both teacher and student into the text in order to
discuss the reasons for variant perceptions.
If the responses agree, does every part of the text contribute helpfully to sustaining the writer's intentions?
Do the parts need clarifying or elaborating in order to improve
their effectiveness?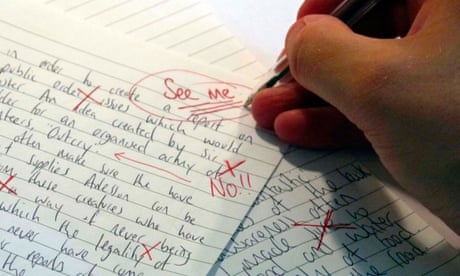 The teacher's principal concern in asking and cooperatively answering these questions is to make the writer think about what has
been said, not to tell the writer what to do. The point is to return control of
choice-making as soon as possible to the writer, while also creating a motive
for making changes.
Peter Elbow begins his article Voice in Writing Again: Embracing Contraries, with "Voice is an important dimension of texts and we should pay lots of attention to it. Everyone has a real voice and can write with power. Writing with a strong voice is good writing. Sincere writing is good writing. My voice is my true self and my rhetorical power. The goal of teaching writing is to develop the self."
This article shares the pros and cons about having a voice within writing. Everyone has a voice. How they choose to use it, is what makes the greatest difference. Those who are skilled may have the capability of faking it, while others maybe trustworthy. Voice can be found everywhere, in a classroom, in politics and via the internet (all aspects).
"To learn to speak or write better, we need also work on being better persons."
Attending Voice in Texts:
When readers hear a voice in a piece of writing, they are often more drawn to read it and that audible voice often makes the words easier to understand.
attention to voice helps rhetorical effectiveness.
the metaphor of voice helps the students improve their writing
thinking in terms of voice can help people enjoy writing more
attention to voice can help with reading
it's a question of voice and self
Not Attending Voice in Texts: 
ignoring voice is necessary for good reading (rather than defining for yourself, you hear & create a person with personality within the reading)
ignoring voice is necessary for teaching writing
If we can empty a text of voice, we enlarge possibilities for meaning and interpretation; whereas, when we hear written language as voiced (or when we hear actual speech), meaning and interpretation are restricted.
avoidance of voice is a powerful tool for a writer.
Voice is too vague a metaphor to be useful
the notion of voice in writing does harm in our culture.
Compromise:
a healthy way to deal with conflict or contradiction