I wanted to begin this blog with this quote minus the last part.
Tutoring ESL: Being a tutor can be rewarding but like many other jobs/responsibilities, it may come with a few challenges/obstacles. ESL students have a lot to learn, consider and convert when it comes to the English language. Although English is quite the global lingua franca, I feel it confuses everyone internationally. From grammar, punctuation, vocabulary, spelling, tenses and grammatical gender, it takes a lot of work for NES to comprehend, let alone ESL students.
Harris and Silva discuss ways to consider helping the tutors recognize supportive methods to understand what the ESL writers are not achieving. These students have  similar issues to NES writers.
For students whose first language is not English, the writing classroom cannot
provide all the instructional assistance that is needed to become proficient
writers. For a variety of reasons, these students need the kind of individualized
attention that tutors offer, instruction that casts no aspersions on the adequacy
of the classroom or the ability of the student. We should recognize that along
with different linguistic backgrounds, ESL students have a diversity of concerns
that can only be dealt with in the one-to-one setting where the focus of
attention is on that particular student and his or her questions, concerns,
cultural presuppositions, writing processes, language learning experiences, and
conceptions of what writing in English is all about.
It seems as if some tutors have a preconceived notion about ESL writing and are surprised by the errors. Tutors need to take into consideration that the ESL writer are of multi cultures. What may work in their country cannot be easily translated or writing grammatically here. In the line of teaching, all teachers,coaches and tutors, etc are encouraged to search for something positive about a student, his/her work or action.
They should be encouraged to begin by looking for what has been done well in the paper, acknowledge that, and go from there.
How can the writers be encouraged without being discouraged? Silva and Harris explain explain how tutors should look for patterns by:
Not all members of a particular group may
manifest all of the problems or cultural preferences associated with that group;
and
2. Not all problems will be a result of transfer of L1 patterns.
There is also the possibility of some writers being well articulated. One of the main issues within their writing is due to the lack of rereading, less planning, disorganization, hearing what sounds right and few resources.
Silva and Harris mentions tutors strengthen their skills in
adjusting expectations
setting realistic goals
resisting the need to give the answers
making hierarchies
encouraging proofreading strategies
resources for tutors
After reading this article, I realized I never thought about ESL writers and some struggles that they may encounter. I know immigrants take English courses to further their knowledge in America but I actually never thought about the workload. I always thought they listen to recordings and have a group discussion.
I guess I've been ignorant to other activities in this world. In World Englishes, we talk about the importance of English in many countries and the effects it has on the people learning but now I have a greater appreciation and respect for my native language and the people learning it. Although my family spoke English when they arrived, some of the verbage was a little different but they were still able to get by. I can admit that I do take for granted my ability to speak and write in English. I remember in school speaking and writing in Spanish and how I struggled writing and understanding the grammatical gender words and the tenses. I know I cannot go through that again.
Using Rubrics to Apply Grading Criteria:
John Bean shares information from Paul Diederich's experiment with composition research.  300 essays = 53 professionals = 6 occupational fields. When asked to read, comment and organize into a pile based on ratings, every professional had their own  way/style/reason for their selected rating. What I realized is that most teachers are educated in a similar way however when it comes to their grading and explanation, it is most their own thoughts/reasons rather the significant purpose.
Bean introduces the pros and cons of creating rubrics.
Rubrics come in many different sizes, shapes and flavors. The primary variations are the following:
They can be analytic or holistic
Generic or task- specific
Use different methods of describing performance levels
Can have a grid or a non-grid design
I think I was introduced to rubrics in middle school in English class. My teacher never explained what it represented nor did they help us to use it. When my writing was returned I hated the rubric because my grade was either average or below. How was my writing suppose improve? I don't recall having various types of rubrics that suited the theme or teaching style. Within Bean's article he shares that a generic rubric doesn't fit everything, a one size fits most.
Bean believes in designing task-specific rubrics for each assignment and apply them using what he calls a "left brain, right-brain" method. Generic rubrics don't easily accommodate the subject matter and rhetorical contexts of assignments and task-specific give the students more meaningful feedback about their performance.
He deems giving students a letter grade is more important than calculating a rubric score. Now that I have gained a better understanding about rubrics, I'm not against them. Rubrics are helpful for teachers and students especially for communication and developing an understanding of the papers theme.
This grading criteria information helps coach students become more efficient and effective writers.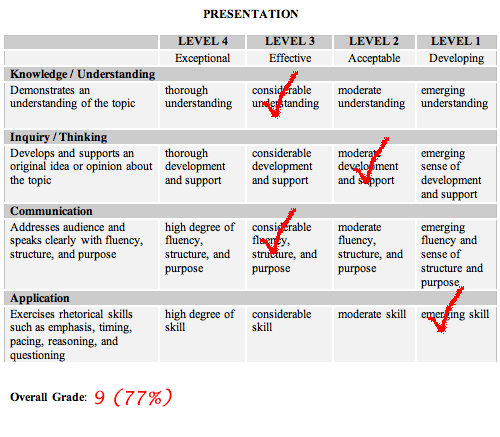 I kind of wish we had a rubric for our presentation but glad we didn't because we were all able to think outside the box and create our own ideas to follow based on the topic chosen.